This passage I am about to type is going to partially replay the events of a historically tragic tornado outbreak .... the likes of which may never be duplicated. In this piece I will overview the event, incorporate a timeline, interject my own thoughts, and discuss why I did not chase. Super Outbreak 2011.
Overview: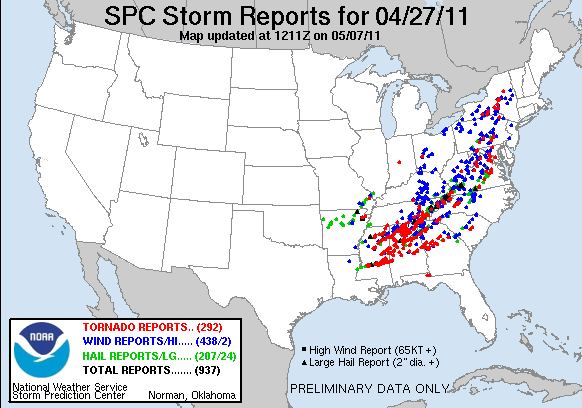 * Tornado reports from 4/27 - Absolutely staggering.*
One word to describe the event on 4/27/11. Textbook. Everything, and I do mean EVERYTHING fell into place. Normally in terms of tornado outbreaks, all ingredients come together partially enough to kick off a few supercells with associated tornadoes. Some of the better known outbreaks have a lot of those ingredients put together but a little to much of one thing and not enough of the other usually makes those outbreaks significant but not historically epic. This wasn't the case on April 27th. Every single ingredient was present for an outbreak of epic proportions. Furthermore, each quantity of every ingredient far surpassed the minimum quantity to get things going for a sustained period of time. What does this mean? In terms of an outbreak, a lot of vital ingredients need to be put together and utilized at the right time or else one will wane and wreck the setup. It does no good to have 3,000 CAPE with zero forcing from a shortwave ejecting out or outflow boundary to name a few. Furthermore it also does no good to have non-zero CAPE with 800 m2/s2 helicity values and no trigger. There are a lot of potential days that have a few thousand CAPE, several hundred helicities, exceptional divergence in the upper levels, but a badly timed shortwave.
April 27th had many factors going against it on the onset of the day. What I most amazed is how those negative factors ultimately proved meaningless in terms of detouring an outbreak, but in fact aided in it's destructiveness. For example..... when chasing we look for boundaries, a trigger, clearing, moisture convergence, etc. April 27th started off stormy for portions of the outbreak area... many of those areas stayed stormy all day. A tornadic linear MCS was traversing MS/AL region at the start of the period seriously complicating matters. SPC forecasters nailed this setup many days in advance, but it is impossible to predict mesoscale anomalies 3-4 days in advance. All signs were pointing at a widespread severe weather outbreak with associated risk for tornadoes, but the question was how this MCS came into play. As it turns out only half the risk area was affected, in turn sparing much of Kentucky, Ohio, Indiana, West Virginia from a memorable severe weather episode. Further south wasn't so lucky. In the end 300+ lives were lost, thousands injured, billions of billions of dollars of destruction, cities changed forever, and a new found respect for Mother Nature.
Mesoscale and Stormscale features and synopsis:
As eluded to earlier, this outbreak feature all of the right ingredients. Telling you is one thing, showing you is another. I am going to provide sets of data from before initiation, during initiation, and during the most violent of tornadoes. I will post the images and make captions underneath them and then below that I will explain the significance of such a model and what to look for when looking to forecast major tornadoes and severe weather.
April 27th was the 3rd day of 3 consecutive severe weather outbreak days. It was unknown the extent this outbreak would be, but it had the potential to be huge. At the onset a tornadic MCS was moving through the outbreak area producing winds over 80 mph and many strong tornadoes. Normally when an MCS moves through early in the morning it kind of puts a damper on things knowing it had to be timed just right to kick a boundary, clear out and allow for destabilization, and hopefully not contaminate the atmosphere. As the MCS was moving through and causing severe damage it was becoming increasingly feared that all this MCS would do was kick down a boundary somewhere for the inevitable barrage of tornadic supercells to train on. Areas hit hardest by the MCS were hit 100x's worse by violent tornadoes no more than 6-8 hours later.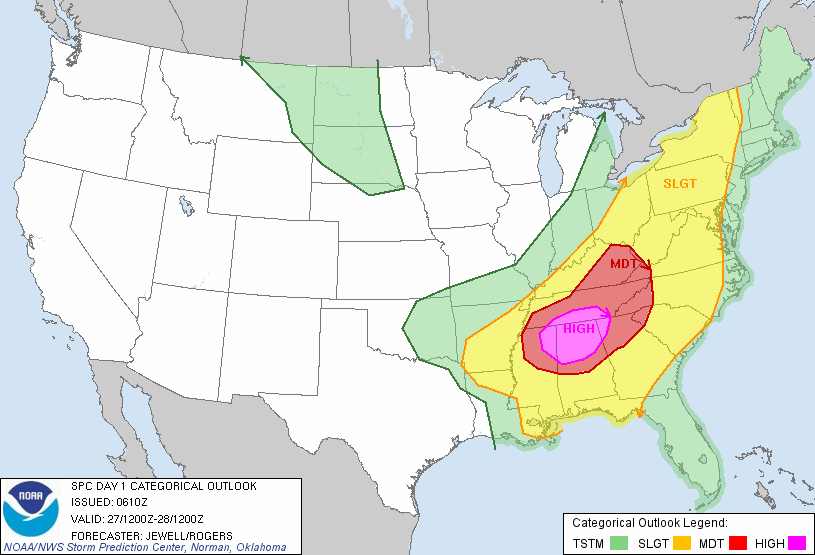 *SPC outlook at the time of MCS 12-13z*
* Aforementioned MCS and tornado watch issued by SPC for the early show*
*12z Sounding from Jackson, MS - note the impressive wind fields*
* H25 winds showing impressive trough digging into the eastern plains/mid Mississippi Valley*
Important to not the classic divergence in the upper levels promoting maximum lift. At 12z this was located just behind the MCS with maximum lift occurring over N. MS. You can see divergence by winds in C AR blowing out of the SSW and winds in C MS blowing WSW. 125 kts of shear rounding the base of the trough.
*H30 winds... much of the same only added the yellow contours to represent max divergence*
*H50 winds. Note the stacked wind barbs noting very strong winds at the 500 MB level.*
In this we have established that upper level winds were strong and diverging promoting maximum lift over the outlook area. The 500mb chart shows a significant trough digging into the mid-south and an impressive jet max speeding around the base of the trough just before peak heating. Speed shear was there... but that doesn't make a set up alone. Many times there have been impressive speed shear, but no directional shear and storms fire up and line out right away. Below I will show you the lower level wind fields and explain just how INSANE this set up was.
*H70 winds are seen also roaring into the area with it being pretty moist area seeing early morning storms*
It is important to note that each of the 4 charts I have shown have featured winds blowing mainly out of the WSW or SW at varying intensities. Again... exemplifying speed shear. What this means is if a storm goes up it will have the capability to move along but since there is no turning with height and only a uni-directional profile... storms will basically form into lines with attendant potential to bring down some of those powerful winds through downdrafts. There was plenty of strong speed shear with 4/27, but was there directional shear?
* H85 map showing winds screaming out of the due south just above the surface
You better believe there was directional shear.... even early on. The most STUNNING map I have seen was an H85 plot about 22-23z of winds out of the south at 75 KTs!!!!!!!!! That is nearly 90 mph south winds overlaid by a H50 jet max blowing out of the west at 100 mph and upper diverging upper level winds at a similar speed. Classic. Now a lot of times the upper level winds will be weak, but mid level winds and low level winds will be strong so a storm will be able to form, but rain on itself and eventually commit suicide. On the flip side there is a lot of times where shear is just to strong and every tower will just topple over on itself. In the case of 4/27 upper level winds supported sustained storms, mid level winds promoted updraft rotation, and low-level winds were EXTREMELY conducive to violent rotation and/or tornadoes. So visualize a south easterly surface wind, a southerly low level jet, a southwesterly H70 wind, a westerly H50 wind and a diverging H25 flow... all at increasing speeds the higher up you go. You may visualize a hodograph that looks something like this.
Shear is just one piece of the puzzle. High shear events are common in the early months and generally produce a low visibility, grungy, sloppy mess of rainshowers that rotate and produce tornadoes. While the environment is conducive to producing tornadoes, it is less than desirable from a chasing stand point. We have already established shear was off the charts.... how about some other factors into the development of thunderstorms.
To review there are four ingredients to the development of sustained thunderstorms... shear, instability, lift, and moisture. Shear was MORE than adequate. What about instability
? As early morning storms were moving through the north-central regions of Alabama.... most of southern Alabama and Mississippi were allowed to clear out and warm into the 80's. Even at 7a most of the areas clear of cloud cover were baking and very conducive to supercell development as evidenced by this plot of EHI values.
It was clear to where the boundary was and associated convection to the north.This was worrisome to forecasters as that airmass would have a long way to go in just a few hours. Without instability thunderstorms may not form in northern Mississippi, northern Alabama, and southern Tennessee. This was also another pretty stunning occurrence. Normally a warm front will slowly usher in warm moist air into areas that had previous storms... basically a battle between cool stable air and warm unstable air. On the 27th the ENTIRE air mass basically shifted. There was no battle. By 16z EHI values in previously storm ravaged area were already very high. Way before peak heating.
*By 16z MUCAPE values were pushing 3k in C. AL
The stage is becoming set. Insane shear with moderate to extremely unstable instability give us 2 values of severe weather formation. Moisture was already pooling into the region. With such a strong low level flow and the Gulf within sneezing distance, it wasn't hard for upper 60/low 70 dew points to shift with the air mass. Temperatures in the 80's and dews in the 70's provided an extremely volatile environment. Would there be a spark? The last thing missing is lift.
To go off topic a smidge.... a lot of days have these ingredients in place. Not to the magnitude and quantity, but still have ingredients in place. How many Iowa days out there will have temperatures in the 80's, dews in the 70's, very good shear, but no spark? The key to most severe weather episodes is the spark.... whether it is a surface low, dry line, pre-frontal convergence boundary, out flow boundary, shortwave, sea breeze... ANYTHING to induce lift. A poorly timed shortwave or frontal passage will result on many a busted chase. Unfortunately for residents of the south.... there were 3 main sources of lift at the WORST possible time (peak heating)
Source of lift #1 - Outflow boundary laid down by previous day thunderstorms. After the MCS moved across northern Alabama it left a remnant boundary that slowly drifted north and stalled out near the AL/TN border SW toward the Tuscaloosa area.
Source of lift #2 - Cold front/surface low/warm front. An intense center of low pressure was churning in the ArkLaTex area and started ejected NE toward the Ohio Valley ....
Source of lift #3 - Upper level shortwave overspreading the area during peak heating which steepened lapse rates
Some days you can't buy a source of lift, others (like 4/27) you don't have a shortage of them. Unfortunately all three of these sources of lift erupted during peak heating and with more than adequate instability and shear in place the favored mode was supercells. On top of all four ingredients being more than sufficient, that aforementioned outflow boundary just added MORE low level turning and likely was the culprit of the most violent of tornadoes in N. AL.
The first war rock is thrown:
*The last activity loop before all hell broke loose after 1715z
Just after the 1700z time frame the jet streak was just entering MS overriding the surface low, on top of the short wave over spreading the area . The result? Thunderstorm development in SE AR/N MS. While storms weren't very organized to start the second they started to race ENE into better wind profiles they quickly turned supercellular and started dropping tornadoes. As the day progressed the already impressive parameters turned into unfathomable.
* 0-3km EHI Values in the 13-15 range over C. AL around 22z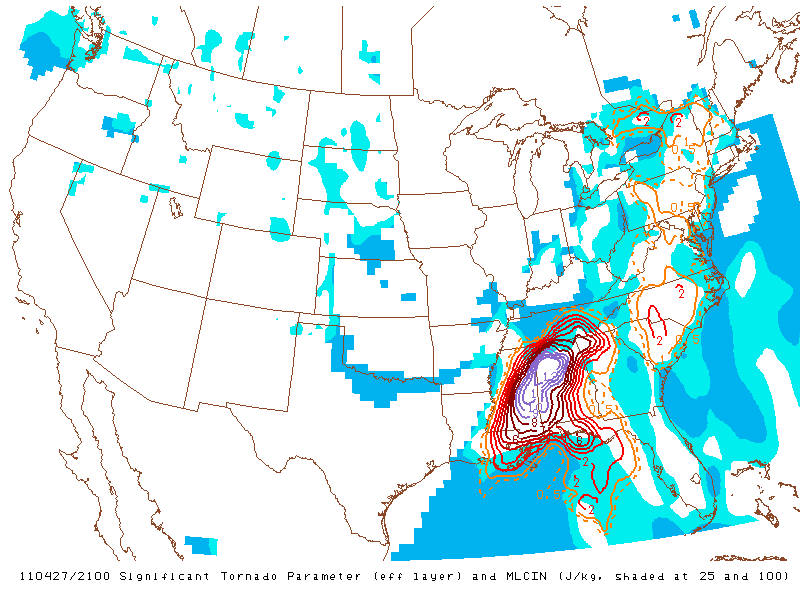 * STP values over 13 in NW AL... unheard of
*0-3km SRH values at 1000 (0-1km were at 900) m2/s2
*Effective Bulk Shear profiles of 90+ kts
Textbook historic tornado outbreak plots above. Notice the effective bulk shear numbers... supercells generally thrive in the 25-40 kt range..... when you have 90 kts of bulk shear.... a puff of smoke from a camp fire will rotate. There was one point in time where a 30dbz rain shower with no lightning was tornado warned. Some times weather models like to pre-cast these values 10 days in advance and you throw them out because you think "no way that could ever happen." As I was watching this event unfold I was looking at these values REAL TIME and thinking "no way IS this happening."
As the low level jet ramped up .... winds just above the surface were gusting to more than 90 mph aiding intense low level turning and basically guaranteeing major tornadoes. In the end this outbreak will probably be the biggest on record and will live in infamy.
Overall Timeline (Courteous of my group Convective Addiction) ***NOTE THIS TIMELINE WAS DONE JUST A FEW DAYS AFTER THE TORNADO OUTBREAK, I HAVE NOT GONE BACK TO AMEND SOME OF THE CHANGES THAT HAVE OCCURRED LIKE THE UPGRADING OF AN EF-4 TO EF-5 AND ADDITION OF OTHER TORNADOES*** :
Long and Medium range models begin to indicate that another
outbreak of severe weather is possible the following week. By this point April has
already broken all-time records for number of tornadoes.
The Storm Prediction Center in Norman, Oklahoma issues its first probability outlook
for a severe weather outbreak on April 27th.
Meanwhile a significant severe weather outbreak and heavy rain event in its own respect
was ready to unfold on this day. A high enough threat that the NWS issued a Public
Information Statement on the day.
5:02 AM:
Birmingham, AL AFD (Area Forecast Discussion) mentions the likelihood for long tracked
tornadoes
1:10 AM:
The overall evolution of storms has become much clearer as short range
models indicate a potential historic tornado outbreak may unfold later in the day across
the Deep South. SPC upgrades parts of AL, MS, TN and GA to a HIGH RISK.
2:25 AM:
The first tornado watch over Alabama is issued. It also includes parts of MS
and TN.
2:29 AM:
Choctaw and Webster County MS EF-3 Tornado hits.
6:45 AM:
Dekalb County AL Tornado reaches EF-2 strength.
8:10 AM:
Second round of severe thunderstorms prompts another tornado watch over MS
and AL to be issued.
11:05 AM:
PDS (Particularly Dangerous Situation) Watch is issued over MS, LA and
AR as the atmosphere begins to reload from overnight and early morning convection.
This watch replaces parts of the tornado watch issued at 8:10.
1:39 PM:
Lafayette Co. MS EF-3 Tornado begins.
1:45 PM:
Second PDS Watch issued for AL, TN and MS. All probabilities on the watch
indicate >95% chance for significant severe weather in all categories.
2:30 PM:

EF-5 Philadephia, MS tornado touches down.
3:00 PM: Approximate time for first radar returns of Tuscaloosa/Birmingham Supercell.
3:04 PM:
Chicksaw and Monroe Co. EF-3 Tornado strikes.
3:05 PM:
EF-5 Tornado touches down. It will remain on the ground for an incredible 132 straight miles.
3:27 PM:

Smith County, MS EF-3 touches down for 11 minutes.
3:35 PM:
An amazing third PDS watch was issued for TN and NC.
3:44 PM:
Second EF-5 Tornado of the day; Strikes Monroe Co. MS. Winds are estimated at 205MPH.
3:57 PM:
Shotsville, AL EF-3 Tornado forms.
4:39 PM: Limestone and Madison Co. AL EF-5 Tornado continues
4:53 PM:
Tornado crosses into Franklin County AL and continues to produce EF-4 damage.
5:08 PM:
Newton Co. EF-3 Tornado strikes.
5:10 PM:
Haleyville, AL EF-3 Tornado forms.
5:30 PM:

Sawyerville/Eoline EF-3 Tornado beings at least 71 mile track

.
5:35 PM:
EF-3 Tornado crosses AL into GA in Dade County.
5:42 PM:
Long lived tornado forms near Raleigh, MS.
5:47 PM:
Tornado Warning issued for Tuscaloosa, AL for storm which would eventually
strike the town.
6:08 PM: Tornado enters Tuscaloosa city limits.
6:10 PM:
Violent Tornado strikes near the University of Alabama campus.
6:23 PM:
Argo, AL Violent EF-4 touches down. Remains on the ground through the GA State line (72 miles).
6:38 PM: Tornado Emergency issued for Birmingham, AL.
6:50 PM:
As tornadic supercells push east and fourth PDS watch is issued for AL, GA,
TN, SC, and NC.
7:14 PM: Long tracked Raleigh, MS tornado crosses from MS into AL. It has already been on the ground for 65 miles.
7:50 PM:

Argo Tornado crosses from AL into GA. While not as strong, it remains on the ground for 3 more miles.
8:15 PM:
Catoosa, GA EF-4 Tornado touches down.
8:29 PM:
EF-4 Tornado is on-going in Hamilton Co. TN
9:20 PM:
EF-3 tornado develops in Bartow county GA and travels through Cherokee and
Pickens counties.
9:40 PM:
Storms along the dry line are still cause for concern, prompting another series
of tornado watches in AL/MS/GA
10:18 PM: Tuscaloosa storm looses supercell characteristics over North Carolina.
12:03 AM:
Meriwether County, GA EF-3 tornado touches down.
12:38 AM:
EF-3 tornado forms in Pike County GA and moves through Lamar, Monroe
and Butts County.
3:15 PM: The last tornado watch of the outbreak is issued.
NEWSPAPER HEADLINES THE NEXT DAY:
Pics Courtesy: Jackson Weather Examiner, The Decatur Daily
Thoughts/Personal reflection:
Days leading up to this event, I knew I wasn't going to be able to chase it due to starting my new job. I had been closely monitoring the situation and knew some where in the south SOMEONE was going to "get it". Models did an extremely good job at handling this storm system as well as the Storm Prediction Center, local NWS offices, and local media outlets. This event was predicted more than 5 days in advance. Everyone had sniffed out what mother nature had up her sleeve. She decided to throw a major curve ball though. That line of storms that formed in MS overnight and raced across MS and AL was an event within itself that was overshadowed by the tremendous tornado outbreak that soon followed. That MCS produced many strong tornadoes and killed people. Had the 4/27 outbreak not occurred, the early MCS would have been a pretty big story. Not only did it injure and kill people, but it destroyed vital lifelines by knocking out power to more than half the residents of N. AL. Not only were residents without power, tv, and radio.... but the storm also knocked out NWR transmitters all over N. AL. The recipe for disaster was there in an atmospheric level and a sociological one too. It would be almost impossible to say whether or not more lives would have been spared had that earlier line of storms not destroyed many lifelines.... but one would assume that it wouldn't hurt the chances they had to survive.
As storms developed, news webcams captured amazing footage of tornadoes affecting Cullman, Tuscaloosa, and Birmingham. Perhaps the most HORRIFYING sight I have ever seen was watching ABC 33/40 live as a major tornado touched down just outside of Tuscaloosa and ground it's way through the southern business district toward the University mall area and points northeast. I had seen tornadoes on webcams before, I even watched the one that hit Cullman earlier. To see this 3/4 mile wide tornado churning into a major population center sent chills up and down my spine. I inevitably knew people were dying live. I couldn't see them dying, but I knew they were. With each mile this monster moved, it threw roofs, vehicles, houses, everything miles away from it. Amazingly enough many of these tornadoes had tentacle like vorticies streaming out a mile or two ahead of the main vortex. It was the fabled "dead man walking" that legend has it you see before you die.
It was tough to bear.... at the second it was happening I was numb and just stood frozen. I had to be at work in a few minutes but I stood there. One pant leg on, toothbrush in mouth, completely frozen in time. I thought for sure that was an EF-5. I thought for sure I watched an EF-5 hit a city live and destroy a major college campus. It wasn't easy to take. Later it was ultimately rated a strong EF4 but no matter the strength or size... it changed the face of Tuscaloosa forever.
A bright side on the outbreak (if there was one) was it brought national attention to one of the great tv meteorologists of all time .... James Spann. I am a member of NWSchat and have seen James in there from time to time. He came off as a brash, no nonsense type of guy that carried an attitude about him. I didn't know what to think of him. I had watched some of his archived newscasts of tornadoes hitting the Tuscaloosa/Birmingham areas in the past, but never got a good feel. I must say though, watching all the coverage of 4/27 live with James Spann made me respect the man an infinite amount. You don't get much better than that. He kept his cool during the worst tornado outbreak anyone is ever going to see in their lifetimes. His own family at risks, friends and coworkers potentially set up to be killed, he carried about his business in a professional way and undoubtedly saved thousands of lives.... I will never forget his words during the Tuscaloosa tornado.... "All you can do is pray for those people"
Another bright spot was the SPC and NWS offices that coordinated the event. Amazing job forecasting, amazing job getting warnings out, and exceptional teamwork. Most will say "well with such a text book outbreak, it should have been a slam dunk anyway".... It was that and so much more. Everything was executed to near perfection... the only gripe I have is that some offices totally abandoned the tornado warning and started issuing tornado emergencies. While it was a dire situation, it seemed like everything was a tornado emergency and I fear in the future events that people will think it is "only" a tornado warning.
To recap my thoughts on 4/27.... This day was the biggest of the big. The most textbook outbreak I have ever seen, the scariest one I could have fathomed, and the most emotionally taxing situation I have ever witnessed live. A day I do not care to repeat.
My decision not to chase:
I have chased for 15 years now. It was always my dream to chase that classic tornado outbreak with amazing supercells, huge wedges, and any storm I choose. It was supposed to be like that. I guess I was semi blinded by my own personal gain that I didn't realize for such an outbreak to occur... many will die and many mores lives changed forever. I had always pictured an outbreak like this to occur in the middle of no where, where you can see for miles, and the only thing disturbed was cows, trees, and wildland. I like to think I am a pretty recognized chaser, and pretty recognized chasers chase just about anything anywhere. Multiple factors prohibited me from chasing anyway, but with this set up... I just had no desire to.
Since I started my new job, I didn't have enough time accumulated to call off so right off the bat I was down in the count. Coupled with the fact I was on limited funds all year and couldn't get out that much it was a no brainer that I couldn't chase. I didn't want to chase this dream set up anyway and I will explain why.....
Reason #1 - Terrain - I knew this set up was going to be in heavily hilled and wooded areas of the south. There is something unsettling about chasing a major tornado outbreak when 90% of the time I will be looking at trees.
Reason #2 - Human Impact - This had a huge potential to effect millions of people throughout the south.... What happens if multiple major cities were hit? What happens if I have another field incident in the path of one of these monsters in the middle of an area I can't see?
Reason #3 - Storm Motion - This was probably my main deterring factor, coupled with #1. This was such a classic tornado set up, but was not ideal for those chasing it. Storms moving 70 mph with 1-2 mile wide tornadoes on windy roads up on mtn tops and valleys. Even if I did catch a glimpse of a tornado I wouldn't get a good view without being in a dangerous position. If I had chased I would have targeted W. AL west of Tuscaloosa on I 20 at the MS/AL border. Would I have gotten tornadoes? It was hard not to that day, but I can't say with certainty that I would come home satisfied... especially knowing those tornadoes killed.
Reason #4 - Documentation - Eluding back to #3... I chase storms for personal passion. To document Mother Nature and to do my part in helping the warning process. With such fast storm motions, dangerous roads, and populated areas being nuked... I don't think any worthwhile documentation would have justified the trip down there. I cannot justify a trip down there simply because it is "my passion" and I want to be a part of "history". Sorry that is just not the type of chaser I am.... Furthermore I think it pretty shallow to use the "it fuels my passion to chase every single set up" line. Please. Most of the people saying that are the ones that never had to work a day of their lives or lift a finger without something falling into their laps. If I don't think I can successfully document a weather event and do so safely then I just sit it out.... there will be other storms. Maybe not another outbreak like this, but you can't see every single tornado of an outbreak and most of the people I know got crappy footage for 3 minutes while dodging trees and low visibility.
Reason #5 - Mentally - Perhaps the longest lasting impact of chasing a set up like this would be how it affects me afterward. Had I been on I 20 chasing the supercell into Tuscaloosa, the things I would have encountered after 5:10 P.M. would have lasted me an eternity. Greensburg/Moore/Hallam/ choose your tornado disaster and talk to the people who saw it first hand. That type of memory doesn't go away. I would for sure have not been the same chaser. I am used to seeing people at their worst working as a firefighter and assisting with the ambulance. Those are mostly medical issues.... not gruesome tornado aftermath injuries..... How would I deal with seeing a 6 year old missing half their body or an 83 year old with a 2x4 impaled through their chest. I get the risks every time I go out and chase, but most of those set ups are in the middle of no where and away from towns . 4/27 seemed to have something personal with everybody in the south. No towns in the areas went completely unaffected and communities that took a direct hit will never be the same. I honestly think I would enjoy chasing a little bit less had I been witness to that.
You may or may not agree with my reasoning not to chase even if I was capable to. It is just my opinion and doesn't take any of my passion away. If I had unlimited funds or rich parents I would be out there every single chase day in the plains. I am not a huge fan of deep south chasing based on sour experiences in 2002. I am not a storm snob and definitely possess the knowledge to keep up with chasing in unfavorable areas, but it really isn't worth it to go out of my way to prove to others that I can do it. I have seen many people commenting on how others are "afraid" to go chasing in the deep south. Such asinine statements hold no water with me. I could just as easily say most people don't have the balls to crawl into a burning building.
Take what I have written as a learning resource, wise words from someone who has done it, or just as garbage from someone who likes weather. I have taken now 10 hours to type this out over the last few days and will ultimately add more to it as I go over some stuff. I know with a busy schedule ahead of me, my time may be limited to finish it completely so I thought I would throw together what I have for you all on an event that has pretty much consumed my free time since it happened.
Thanks for reading... direct any questions to me on FB or through the comments here.
Big thanks to Ryan Wichman of our group Convective Addiction for compiling most of the timeline and posting it on our site right after it happened.
Danny Neal